The 20 Fruits and Veggies With the MOST Pesticides
These are the ones that you should always buy organic, if possible. If you do buy conventional versions of the following produce, please be sure to wash them thoroughly with Wash dem Veggies (organic produce, of course, should also be washed just in case). These are ranked in order by EWG, with the worst of the bunch, peaches, at #1.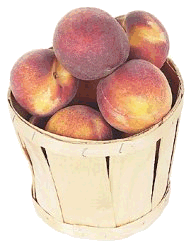 Peaches tend to have the most pesticides of any fruit or vegetable ... so if possible buy these organic.
Peaches
Apples
Sweet Bell Peppers
Celery
Nectarines
Strawberries
Cherries
Pears
Grapes (Imported)
Spinach
Lettuce
Potatoes
Carrots
Green Beans
Hot Peppers
Cucumbers
Raspberries
Plums
Grapes (Domestic)
Oranges
The 20 Fruits and Veggies With the LEAST Amount of Pesticides
According to EWG, the following produce has the lowest pesticide load, ranked in order with the produce with the absolute lowest pesticides first.
Onion
Avocado
Sweet corn (Frozen)
Pineapples
Mango
Asparagus
Sweet peas (Frozen)
Kiwi
Bananas
Cabbage
Broccoli
Papaya
Blueberries
Cauliflower
Winter Squash
Watermelon
Sweet potatoes
Tomatoes
Honeydew melon
Cantaloupe
Recommended Reading
Organophosphates: What You Don't Know Can Indeed Hurt You
The Danger of Household Insecticides Confirmed in Recent Study: What You Can Do Instead